Safety is our priority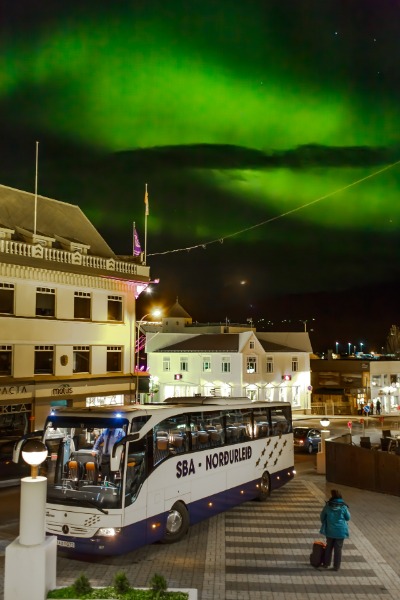 The safety of our passengers is our number one priority. Therefore we take extensive measures to provide safe vehicles and a good costumer service.
European and Icelandic law states that seat belts must be worn at all times while the vehicle is moving if seat belts are available. All SBA-Nordurleid coaches are equipped with seat belts and the company complies with all transportation regulations.
First aid
All vehicles carry one or two First Aid kits that are inspected regularly and refilled. To ensure that the First Aid is stand-by whenever needed it is a part of the driver's daily maintenance inspection to check if the First Aid kit is ready for use. All First Aid kits er inspected yearly by certified authorities.
Fire extinguishers
According to European and Icelandic law all coaches must be equipped with at least one fire extinguisher. Most of our coaches carry two fire extinguishers. All extinguishers are sealed and inspected yearly by certified authorities.
Safety gear
All vehicles are equipped with safety vests, hazard warning triangle and a flashlight. A mobile phone is assigned to each coach to ensure the driver can be reached, by management, at all times. A GPS tracking system has been installed in every coach that monitors speed in real time, duration of stay and moving and distance travelled. We can therefore print out daily reports of each vehicle and give our costumers the current position of the vehicle at any given time.
Vehicle maintenance
The maintenance of our vehicles is a top priority and as a consequence we carry out all vehicle maintenance in-house by our expert repair team. Maintenance records are maintained by our workshop manager. All coaches have to undergo an inspection each year certified by local transportation authorities.
Staff
All drivers must hold the appropriate driving license for the class of vehicle to be driven. All drivers have received proper training for the vehicle to be driven. The license is checked before a staff member is appointed and a driver license manifest is kept to ensure that the license is valid. SBA-Nordurleid reserves the right to have staff members tested for alcohol consumption and narcotic use.